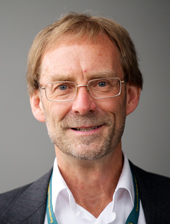 Technical Programme Co-Chairman
Dr. David Baxter
European Commission, Joint Research Centre,Institute for Energy and Transport
David Baxter is a member of the Cleaner Energies Unit in the Institute for Energy & Transport of the Joint Research Centre (European Commission, Petten, The Netherlands). He is part of a team providing scientific and technical support to the development and maintenance of sustainability schemes for biomass and bioenergy, including biofuels. In addition, he is a member of the European Bioenergy Industrial Initiative (EIBI) team which is operated within the frame of the Strategic Energy Technologies (SET) Plan. He is also the leader of the International Energy Agency Bioenergy Biogas Task 37, promoting economically and environmentally sustainable management of biogas production and utilisation from agricultural residues, energy crops and municipal wastes. David Baxter is a materials engineer who joined the European Commission Joint Research Centre in 1991 after working in an industrial company supplying components for power generation and transport.

Angela Grassi
ETA-Florence Renewables Energies
Angela Grassi is ETA-Florence Managing Director. Project management based on Economics and Political Science background and experience. Over 20 years organisation and management of high level international Conferences and Exhibitions in the field of Renewable Energies. Executive Committee Member of international conferences. Since 2000 organisation and management of the annual European Biomass Conference and Exhibition. Coordinator of international projects on renewable energies. Responsibilities include project definition, setting up of international teams, guidance and follow-up of project work, reporting, budgeting, project results assessment and dissemination of results. Author and co-author of papers published in proceedings of national and international conferences; contributions to specialised books. Preparation of final project reports for the European Commission. Managing editor of brochures, publications, scientific proceedings.
Peter Helm


WIP-Renewables Energies
Peter Helm is scientific Director at WIP-Renewable Energies, Munich, Germany. His focus is on techno- economic and strategy related networking in the field of renewable energies. Peter Helm is organizer and co-organizer of international conferences and exhibitions that are addressing the wide field of energy, energy efficiency, energy economy.
Peter Helm studied mechanical and processing engineering and obtained his degree at the Technical University of Munich. He added a postgraduate university study in Economics and Business Administration and obtained his PhD. He started his career as scientist at the international Battelle Institute for applied research / Frankfurt / Geneva / Aberdeen / Richland (Washington). Peter Helm performed project leadership for the GTZ / German Agency for technical cooperation in the framework of emerging countries projects. He was project officer for KfW, the German Bank for Reconstruction, for projects in Africa and Latin America. He coordinated national technical projects on behalf of the German Federal Ministry for Research and Technology and the Federal Ministry for Economic cooperation. Peter Helm acts as contracted expert providing scientific and project monitoring assistance to international organisations.
Tingzhou Lei


Secretary-general of Biomass Energy Branch of China Association for Renewable Energy
Vice president of Henan Academy of Sciences
Director of Henan Key Lab of Biomass Energy
Expert of Advanced Energy Technologies of National 863 Program Central Plains ScholarProfessor Lei Tingzhou has studied in biomass energy technology development since 1995. Currently he is committed to the following areas: biomass briquette technology, biomass gasification technology, biomass liquid fuel technology (such as dimethyl ether, ethyl levulinate, etc.), biomass nano material technology.
Xinshu Zhuang


Vice secretary general of Biomass energy committee of Chinese Renewable Energy Society,CNXinshu Zhuang, Ph.D, Professor, Vice director of Bio-Chem. Conversion Lab of Guangzhou Institute of Energy Conversion, CAS. Vice secretary general of Biomass energy committee of Chinese Renewable Energy Society,International Director of Forest plant Bioproducts Division of AIChE. Her research interests mainly focus on the cellulosic ethanol, including process and fundamental research on pretreatment, enzyme hydrolysis, fermentation and valuable by-products. During nearly 20 years research work in biomass energy field, she published more than 70 peer review papers on journals in which 53 are accepted by SCI or EI, gave more than 20 oral presentations on the academic conferences home and abroad, issued 22 patents among 42 Applications. Now she is taking charge in 2 National Nature Science Foundations, 3 sub-project of 863, 1 sub-project of Key Project of Knowledge Innovation Engineering of Chinese Academy of Sciences and 2 Dean Funds of Guangzhou Institute of Energy Conversion. As a core member, she participate 12 items including National key technologies R&D program, 973, 863 program etc.