Do business with bioenergy opportunities!
The exhibition involved companies, organizations, research structures, specialized advisory services and consultancy firms, donors and professionals involved in the different sectors of the Biomass, Bioenergy and renewable energy.
Why exhibit at IBSCE 2017?
With over 500 attendees expected, IBSCE is the ideal opportunity to present research results to both a global audience of biomass professionals and a key audience from China and Asia.
The perfect opportunity for both Chinese and international organizations to show their company and extend their business relationships with several networking opportunities
An exchange and cooperation platform between the entire biomass community, governments and private sectors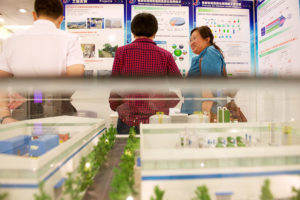 Standard Booth (from 9sqm)
Full Service Package
We offer basic stands starting from 9 square meters* complete with:
Exhibition surface space (modules of 3m x 3m and multiples)*
1 FREE Full Conference admission every 9 sqm of booked stand space
Desk, two folding chairs, waste basket, power socket, two spotlights, name fascia and carpet
Indoor Raw Space(from 18sqm)
1 FREE Full Conference admission for 9m² of booked stand space;
*Raw space is the rental of floor space only and does not include any utilities, services, walls or furnishings. Exhibitors with raw space are required to provide back and side walls. Single-storey stand shall not exceed 4.5m in height and two-storey stand shall not exceed 6m. Single-storey stand at a height exceeding 4.5m will be subject to drawings review.